Elections
 Polls are open 7:00 AM to 8:00 PM on Election Day.
Cable's polling place is the Cable Community Centre.
APRIL 6, 2021 CABLE TOWN BOARD CANDIDATES
Below are short bios of the candidates running for Town Board Chair and Town Board Supervisor positions, listed alphabetically. The two supervisor candidates with the top number of votes will serve for the normal two-year term. The two with the next two top number of votes will serve for one year. In this way, we will create a staggered system of electing board supervisors.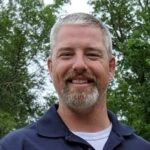 Malcolm Haag:  I am running for Town of Cable Chairman to be an impartial representative for the community.  In my experience in the Marines and law enforcement over the past 11 years, I have obtained the skills to represent those around me while remaining unbiased.  I want to apply those skills to improve our community while ensuring a fair and transparent board to serve our constituents.  I have been a Town of Hayward employee for over 3 years and have a clear understanding of the inner workings of town government.  I bring a unique perspective with having a young family and am invested in the wellbeing and future of our town.  I am a trained leader, have experience working in different levels of government and can bring those skills together to benefit our board.  I look forward to the opportunity to maintain the small-town charm of Cable while balancing the need for progressing our community.  Do not hesitate to contact me at [email protected].
Click here to view Malcolm Haag's interview.
David Popelka:  I am a life-long resident of the Cable Area.  My wife, Lori, and I have two grown sons and two granddaughters.  I have been employed in the Service Department at Andry Rasmussen & Sons for 34 years and have owned rental property in town for 20 years.  Serving the community is very important to me.  I have served as President of the Cable Sanitary District since its inception, overseeing design, construction and continuing operation of the wastewater treatment system.  I have served on the Cable Town Board as Supervisor, Interim Chairman and also served on the Cable Planning Commission.  I have been involved with numerous community groups that include:  Scoutmaster and Committee Chair of our local Boy Scout Troop; member of Scouting Council District Committee; two terms as President of the Cable & Area Lions Club; Director of the Cable & Area Foundation; past President of the Namakagon Trail Groomers Snowmobile Club and a life member of the Cable Rod and Gun Club.  Volunteering is an ongoing pastime.  I have been a committee member for many special events and projects that encourage positive development of our youth,  sustainable use of our resources, improvement of community facilities; and promotion of the growth of Cable.  Through training and experience I can offer management, fundraising, budgeting, design, and project oversight skills to the Town Board.  The most important pledge I can offer is to listen to all sides and make an unbiased decision on any issues brought before the board.  Although there is no way to please everyone on an issue (including myself in some cases), I believe my record shows that I support the best compromise that morally and legally serves not only all the individual parties involved but the community as a whole.  Secondly, I will make the best use of your tax dollars through long-term planning.  I welcome any questions you may have at my email, [email protected], or leave a message or text on my phone at 715-580-0046.  Thank you for your consideration.
Click here to view David Popelka's interview.
Dean Hambrecht:  I am running for Town of Cable Town Supervisor.  I have been a resident of Cable for over 40 years and raised a family in this beautiful community.  My experience includes the position of  Town of Cable Road  Foreman from 1987-2016. As Road Foreman, I managed day-to-day operations; solicited road funding from county, state and federal sources; worked with contractors and bidders; and maintained high level of citizen satisfaction by explaining and proving town's reasons for various initiatives.  Worked with Town Board on goals and objectives and improved communications with the National Park Service, Wisconsin DNR, and County High Department.  I have also served 28 years as an Emergency Medical Technician with Great Divide Ambulance Service; 21 years as President of the Emergency Medical Services Council; 3 years as Construction Supervisor for Habitat for Humanity of Grayson County; and am involved with the Tahkodah Lake District as former President ( 5 years) and presently serving as a Commissioner-At-Large.  My town government and emergency service experience will bring added history to the board and enable the town board to focus on issues which are in the best interest of all Cable area residents.  History, experience, motivation, and new ideas will allow Cable to improve and move forward for our residents and visitors.  Do not hesitate to contact me at [email protected].
Click here to watch Dean Hambrecht's interview.
Tony Merrill:  I am running for Town Supervisor for the Town of Cable, Wisconsin.  Here is a little history about me.  I am a Vietnam vet.  My wife, Theresa, and I have lived in Cable for over 40 years.  We made Cable our home because of the friendly people and our love of the outdoors.  I am running for Town Supervisor for a second term because I believe our businesses, individuals and service providers are vital to our community and deserve accountability and efficiency from the town board.  The budget and expenditures that the town board makes should always be in the best interest of the town and not one person or group.  I would like to thank our community for the wonderful experience of serving as a Town Board Supervisor for the past two years.  I have gained more appreciation for our town and community and hope to be able to continue helping and serving our Town of Cable.  If elected, I will apply my experience, passion and dedication to improve and continue to grow Cable as a wonderful place to live and be part of a community that cares.  Do not hesitate to contact me at [email protected].
Click here to view Tony Merrill's interview.
Kyle Weber:  Born and raised in the Drummond/Cable area.  Graduated from Drummond High School in 2010.  I received a degree in Business Management in 2012.  Since then, I have worked construction and property management on and around Lake Owen and Lake Namakagon.  I have a fiancé and 3 children we are raising in Cable and who will be attending Drummond High School.  I enjoy all aspects of the outdoors—hunting, fishing, skiing, snowmobiling and running.  That is why I love it here.  At this time we have been given a great opportunity to really focus on the town as a whole with the addition of seats on the board.  We are opening up to more points of view to solve issues we have in the town.  I believe I have a proactive view on moving forward to improve the experience of our town for locals (retired and kids), as well as part-time residents and visitors.  If elected, I want to bring a new energy and open-mindedness when new ideas are presented to the board.  Do not hesitate to contact me at [email protected].
Click here to view Kyle Weber's interview.