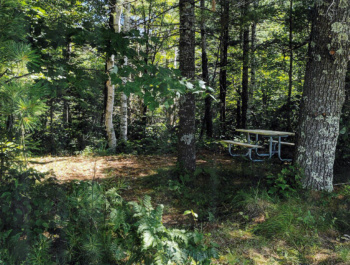 The Town of Cable now offers small rustic campground in the Cable Rec Park. There are five (5) walk-in, tent-only sites in the woods along the east edge of the Park near the playground.
Campground Location
Cable Rec Park
12955 Cable Sunset Road, Cable, WI 54821
Nearest Phone: 
Rocky's Service Station
43475 US Hwy 63
Cable, WI 54821
For Maintenance Needs: 
Call Town Shop at (715) 798-3584 and leave a message.
Fees
Campsite fees are $20 per night and payable at a self-serve fee tube at the Park. Sites are available on a first-come, first-served basis. No reservations accepted.
Self-Serve Pay Station Instructions
Select a Campsite
Return to Pay Station and fill out envelope including receipt insert
Pay fee by cash or check (Please make checks out to the Town of Cable) and insert sealed envelope into the tube slot
Clip receipt insert onto the post at your selected Campsite.
Relax, and enjoy your stay!
Cable Campground Regulations
Camp in designated sites only.  Camping in other locations is prohibited. Anyone doing so will be asked to leave the premises.

Occupancy at each site is maximum of 4 people.
Fees must be paid within 30 minutes of setting up your tent. Paid receipt must be clipped to the post installed at each campsite.
Campsites must be occupied on the day that the fee is paid.
All motorized vehicles must be kept in the parking lot behind the fence.
Quiet Hours are from 10:00pm – 7:00am.
No tree or brush cutting is allowed.  Downed dead wood may be burned.
ABSOLUTELY NO FIRES ALLOWED IN THE CAMPSITES!
CAMPFIRES MAY ONLY BE LIT IN DESIGNATED FIRE RINGS AND TENDED AT ALL TIMES!
All pets must be leashed and under control. All pet waste must be picked up, bagged and deposited in waste receptacles.
No discharging firearms, BB guns, fireworks, or bows within the campground.
No dishwashing is allowed within 100 feet of the water spigot.
Deposit all waste in refuse containers or carry it out.
Check out time is 11:00am.
We hope you have a pleasant stay in our campground. Our intent is to have a quiet park. The campground rules listed above are common courtesies intended to protect fellow campers and park neighbors.